⬅ Return to collection
[uncategorized]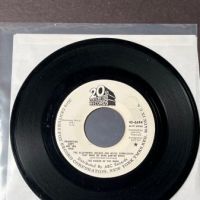 The Riders of The Mark Gotta Find Somebody b/w The Electronic Insides and Metal Complexion on 20th Century Fox White Label Promo
The Riders of The Mark The Electronic Insides and Metal Complexion That Make Up Herr Doktor Krieg b/w Gotta Find Somebody on 20th Century Fox Records – 45-6694 White Label Promo.
The band had this one and only single on 20th Century Fox in 1967. The band if they were a band which some people question was from New Jersey. Maybe a studio band or the writing credit was taken from the members and given to John Hill.
The one track, almost too long to fit onto the single, is dark moody almost electric symphonic garage sound, plenty of effects and backward guitars. The flip side is more straight ahead garage sound with a great back beat and stomp
LISTEN HERE
SIDE 1

SIDE 2


Condition: Vinyl is low NM-, sound great and very clean with great tones. Visually, a couple faint hairlines but does not effect the tracking or sound. SIDE 2 plays and sounds equal. Lables are high VG+, one side has small round sticker, SIDE 2 has slight soiling. Sleeve is generic white.
If you have any question or need additional images, please feel free to contact me.
NOTE:
International orders. Shipping will be $25. Please contact me before purchase if you are an International buyer. I will need to adjust the shipping price to reflect a correct shipping cost to you.
Detail photos Click to enlarge