⬅ Return to collection
[uncategorized]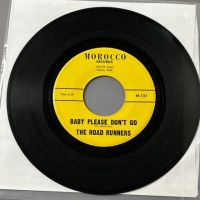 The Road Runners Pretty Me b/w Baby Please Don't Go on Morocco Records Fresno California Garage Rock Single
The Road Runners Pretty Me b/w Baby Please Don't Go on Morocco Records M-121.
The band from was from Fresno, California and released seven songs on four singles in a short period between August of 1965 and April of 1966.
This single was from 1966 and was their 4th and like most of their singles, released on the Morocco label.
SIDE 1

SIDE 2


Condition: Vinyl is low VG+. SIDE 1 has very faint scuff marks. SIDE 2 has some slightly more light marks but still plays at solid Vg+. Labels are Vg+, with very faint rubbing at high point from storage, side 1 has slightly more than side 2. Sleeve is generic white.
If you have any questions or if you need additional images, please feel free to email me.

Note:
shipping cost is for US only, if you are an over seas buyers please email me your shipping address to get a shipping quote.
Detail photos Click to enlarge