⬅ Return to collection
[uncategorized]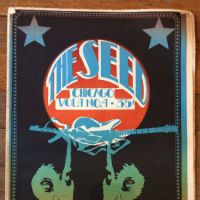 The Seed Vol 4 No. 4 1969 The Chicago Seed Underground Press Radical Newspaper MC5 Cover Yippie Movement
The Seed Vol 4 No 4 The Chicago Seed Underground Press Radical Counter Culture Newspaper
Great looking and amazing MC5 Style cover!!!

Title: The Seed Vol 4 No 4
Year: 1969
One of the top radical presses and counterculture newspaper of the era. The multicolor printing and design set The Seed apart from other newspapers of the era. Check out the center page! This edition is great and colorful with bold colors.
"The Chicago Seed was an underground newspaper published biweekly in Chicago, Illinois from May 1967 to 1974; there were 121 issues published in all. It was notable for its colorful psychedelic graphics and its eclectic, non-doctrinaire radical politics. Important events covered by Seed writers and artists were the trial of the Chicago Eight, Woodstock, and the murder of Fred Hampton. At its peak, the Seedcirculated between 30,000 and 40,000 copies, with national distribution."

The Seed was edited for several years by Abe Peck who started as a staff writer in 1967 and becoming editor in a few years moved the newspaper and aligned the paper with Abbie Hoffman's Yippie Movement (Youth International Party).

Condition: Near Fine with strong and Bold colors and in remarkable condition for the age. Please see images for details.

Size: approx. 12" x 19" Open

A Small Bio of Seed (from wikipedia):
"Seed was an underground newspaper launched by artist Don Lewis and Earl Segal (aka the Mole), owner of the Molehole, a local poster shop, and published biweekly in Chicago, Illinois from May 1967 to 1974; there were 121 issues published in all. Disagreements between Lewis and Segal led to its purchase by Harry Dewar, a graphic designer and Colin Pearlson, a photographer, who thought it had commercial potential. Lester Dore took over the art direction when Don Lewis moved to New York to work for Screw magazine. Skeets Millard, a young photographer and community organizer who was publishing the Chicago edition of Kaleidoscope, joined the Seed staff in 1969, at a time when all of the original founders were gone and there was no one working on the paper who had been there more than 12 months; Mike Abrahamson was running the paper in Abe Peck's absence.[1] Jim Roslof, Karl Heinz-Meschbach, Paul Zmiewski, Skip Williamson, Jay Lynch, Peter Solt, and other 60s artists contributed to what was called one of the most beautiful underground press publications of its time."


If you have any questions or if you need additional images, please feel free to email me.
Detail photos Click to enlarge