⬅ Return to collection
[uncategorized]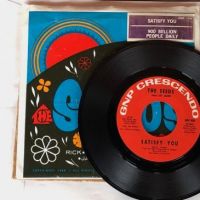 The Seeds Satisfy You on GNP Crescendo 408 1968 Single with Rare and In Great Condition Printed Plastic Sleeve
The Seeds Satisfy You b/w 900 Million People Daily on GNP Crescendo 408 with rare and in great condition Printed Plastic Sleeve, Styrene, Allied Pressing.
The great LA California band fronted by the acid guru Sky Saxon, the band released some great garage singles and rarely seen and heard of, Albums. Most bands barely held it together for one single and some held on to two or three but The Seeds' albums are great and as good as the singles.
LISTEN HERE

SIDE 2


Condition: Vinyl is low VG+, has light marks but no tracking issues. Sounds and plays with light crackle but very low, still great tones. Light distortion on high ends. SIDE 2 has slightly more crackle, and can be heard, both sides have light and faint marks. Sleeve is low Vg+, for that light marks from storage, faint and very light record impression. Top right has original Printed Titles. Back has light record rubbing and very faint soil on top edge.
If you have any question or need additional images, please feel free to contact me.
NOTE:
International orders. Shipping will be $18. Please contact me before purchase if you are an International buyer. I will need to adjust the shipping price to reflect a correct shipping cost to you.
Detail photos Click to enlarge