⬅ Return to collection
[uncategorized]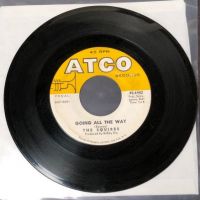 The Squires Going All The Way b/w Go Ahead on Atco Bristol Connecticut Garage
The Squires Going All The Way b/w Go Ahead on Atco 45-6442.
The band formed 1965 in Bristol, Connecticut and released this one and only single in 1966 on ATCO.

The song has been on so many comps, most notably the great Peebles comp of Greg Shaw!
Listen Here
SIDE 1

SIDE 2

PLEASE READ CAFEFULLY
Condition: Vinyl is low VG+, sounds wise has a very faint and light crackle, clean vinyl on SIDE 1, SIDE 2 has a faint hairline but does not affect the tracking. SIDE 1 has a small edge warp, light needle jumps but weight of 2 grams, tracks and sounds great! SOUND on SIDE 2 is equal to SIDE 1, faint low crackle below the music. Sleeve is generic white.
If you have any question or need additional images, please feel free to contact me.

NOTE:
International orders. Shipping will be $18. Please contact me before purchase if you are an International buyer. I will need to adjust the shipping price to reflect a correct shipping cost to you.
Detail photos Click to enlarge