⬅ Return to collection
Rare & Unique : 1900-1940s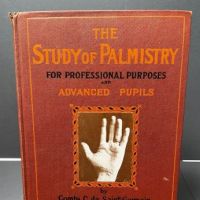 The Study of Palmistry For Professional Purposes by Comte C. de Saint-Germain 2 Vol. in 1 1935 Albert Whitman Co. Hardback
The Study of Palmistry for Professional Purposes and Advanced Pupils by Comte C. de Saint-Germain
Published by Albert Whitman & Co. 1935
Two Volumes in One.
Hardback with printed photogravure hand in center.
"Comte C de SAINT-GERMAIN, A.R, LL. M. (Of the University of France), President of the American Chirological Society, (Incorporated) and of the National School of Palmistry, AUTHOR OF Hand Book of Modern Palmistry (1883) and of Practical Palmistry, (28th Thousand, 1897.)"
1254 Illustrations and with Palmistic Dictionary
Originally published in 1897 in in two volumes
This hardback with brown cloth, with orange lettering to spine and orange & black lettering to front. With a photo of a hand on the front board.
Photos of the content pages are below.

Size: 7 x 10
Condition: Light marks on the front and back from shelf. Small top edge tear on cloth on spine. Slight bumped corners on the front and back. Binding fine but show light signs of use, no loose pages and binding is intact. No writing or damage to the inside pages. Please see the images for more details
If you have any questions or need additional information, please feel free to contact me.
Noted:
Over seas buyers please email me for shipping quote, please provide me with a shipping address and postal code.
Detail photos Click to enlarge