⬅ Return to collection
[uncategorized]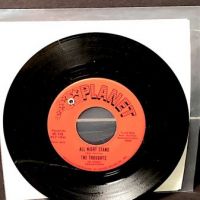 The Thoughts All Night Stand on Planet 1966 English Mod Beat Record
The Thoughts All Night Stand on Planet – 45-118
The Thoughts were a mid 60's English Mod band and were part of the Beat sound of the UK. The released this one single in 1966 and sadly drifted off.
Planet label was a UK short-lived label founded by producer Shel Talmy manufactured and distributed by Philips Records. Shel Talmy was responsible for some of the best produced UK 60's bands, like The Kinks and signed The Who to Decca.
Great single and in great condition
Listen Here
SIDE 1

SIDE 2


Condition: Vinyl is Vg+, sounds great with great tones and dynamics of instruments heard. SIDE 1 sounds light high VG+ and SIDE 2 plays with a faint and tiny bit of surface but plays very close to SIDE 1. Sleeve is generic white. Label is is very clean but has small BB size hole punch
If you have any questions or if you need additional images, please feel free to email me.

Note:
shipping cost is for US only, if you are an over seas buyers please email me your shipping address to get a shipping quote.
Detail photos Click to enlarge