⬅ Return to collection
[uncategorized]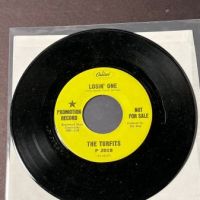 The Turfits Losin' One on Capital Records P 2018 Promo 1967 Fremont, Ohio Garage
The Turfits Losin' One on Capital Records P 2018 Promo.
The band was from Fremont, Ohio and were active from 1964-1968 and managed to get only once single out in 1967.
The b side, "If It's Love You Want" was originally recorded on September 2, 1965 at Cleveland Recording by The Vandaliers.
Listen Here
SIDE 1

SIDE 2


Condition: Vinyl is low VG+, SIDE 1 has faint surface at start, light marks at take up, crackle drops to low as song plays on. Great sound on the instruments and tone is very clean. SIDE 2 has very and faint surface, visually has no marks. Both sides have NM- labels. Sleeve is generic white.
If you have any question or need additional images, please feel free to contact me.

NOTE:
International orders. Shipping will be $18. Please contact me before purchase if you are an International buyer. I will need to adjust the shipping price to reflect a correct shipping cost to you.
Detail photos Click to enlarge