⬅ Return to collection
Out Of Print : Rare & Unique : 1800s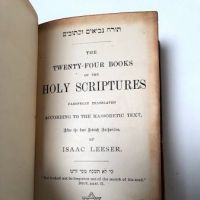 The Twenty Four Books of the Holy Scriptures According To The Massoretic Text by Isaac Lesser 1884 Bloch Cincinnati Full Leather Edition
The Twenty-four Books of the Holy Scriptures, Carefully Translated according to the Massoretic Text, After the best Jewish Authorities, by Isaac Leeser.
Published in Cincinnati by Bloch Publishing and Printing Co.
Year: 1884-5644
1243 Pages
"Isaac Leeser (December 12, 1806 – February 1, 1868) was an American Orthodox Jewish religious leader, teacher, scholar and publisher.[1] He helped found the Jewish press of America, produced the first Jewish translation of the Bible into English, and helped organize various social and educational organizations. He is considered one of the most important nineteenth century American Jewish personalities. He was "fiercely opposed" to Reform Judaism[2] and was regarded as one of the most important "orthodox" rabbis of his era. Leeser is regarded as a forerunner by both Modern Orthodox Judaism and Conservative Judaism."
This very rare edition is highly collectable and unlike others, this one is in remarkable condition.
Chicago Bloch edition, with the copyright page date of 1853, but sources say it was published in the 1860s given the inclusion of the "Advertisement to the London Edition".

Size:6 3/8 x 4 1/4 inches (16 mo.)
Condition: Full leather edition, Moroccan leather, the bindi is tight with some pulling at the center. The front cover has wear at the hing, showing signs of use and wear, attached but starting to loosen. The back inside cover shows wear and starting to split, attached but weakened. The spine's top edge is chipped and missing portion of the leather, bottom edge of spine has light chipping. Marks to the front and back of the leather cover. Inside the first few pages have light toning issues at the edge of the pages, inside is fine. No marks or missing pages. Please see the images for more details.
If you have any questions or need additional information, please feel free to contact me.

Note:
Overseas buyers please email me for shipping quote, please provide me with a shipping address and postal code.
Detail photos Click to enlarge