⬅ Return to collection
[uncategorized]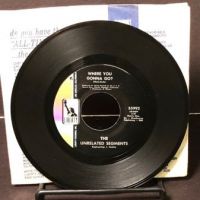 The Unrelated Segments Where You Gonna Go? b/w It's Gonna Rain on Liberty Garage Single with Factory Sleeve MC5 Support
The Unrelated Segments Where You Gonna Go? b/w It's Gonna Rain on Liberty with factory sleeve.
Unrelated Segments were a garage rock band from Taylor, MI and three 7" in 1967-68 and were opening support for the MC5. Their "big" hit was Story of My Life. This is their first single, from 1967

Listen to the tracks here
SIDE 1

SIDE 2


Condition: Vinyl is high VG+ and close to NM-, sounds great and visual no marks, shiny vinyl, sound has slight and faint distortion but amazing and very clean!. SIDE 2 has faint surface and low crackle but no visual marks on vinyl. Label has small hole punch and B side has a small Black ink mark about the Liberty Logo. Sleeve is Vg+, original factory sleeve with light wrinkle at corners.
If you have any question or need additional images, please feel free to contact me.
NOTE:
International orders. Shipping will be $18. Please contact me before purchase if you are an International buyer. I will need to adjust the shipping price to reflect a correct shipping cost to you.
Detail photos Click to enlarge