⬅ Return to collection
Mid-century
This item has been sold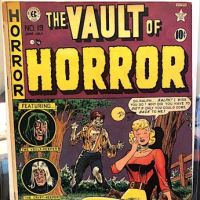 The Vault of Horror No. 19 June 1951 Published by EC Comics Pre Code Horror Cover by Johnny Craig
Vault of Horror No. 19 June 1951 Published by EC Comics
**Sames Estate as the other Pre Code Comics listed**
Title: The Vault of Horror No. 19
Date: June 1951
Pub by EC Comics
Condition: The Cover is in VG+ with only a small tape at the top right edge of spine and small fold to the bottom right corner. The Back Cover has tape on the top right corner overall, very minimal wear. The Binding is tight with only small signs of use.
If you need more image please tell me what areas you need photographed.
"Cover by Johnny Craig. "Southern Hospitality!", script and art by Johnny Craig; Abner Scanlon was a gigolo who disliked work and preyed only on rich women; Unfortunately for him, he marries a young girl from one of the South's richest clans, only to discover that she has no money. "The Jellyfish!", script by William M. Gaines and Al Feldstein, art by Jack Davis; Charles and Howard Norton, of Norton's Pharmaceutical Company, are having an argument; the company has received an order for one million hypodermic inserts for insulin, but can only make 500,000; Not wanting to lose the order, Charles muses that they could dilute each insert by half. "Two Raps!" text story by William M. Gaines. 'Daddy Lost His Head!", art by Jack Kamen; Martin Blackson hates his step-daughter Kathy because she reminds him of his wife's first husband. "Reunion!", art by Graham Ingels; Young Lillian was much too young when she married Waldo, and, soon, his age began to show. 36 pgs., full color."
If you have any questions or need additional information, please feel free to contact me.
Noted:
Over seas buyers please email me for shipping quote, please provide me with a shipping address and postal code.
Detail photos Click to enlarge