⬅ Return to collection
Mid-century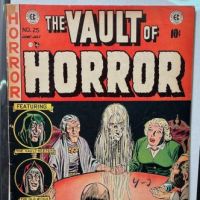 The Vault of Horror No. 25 July 1952 EC Comic Cover by Johnny Craig Precode Horror Comic
**Sames Estate as the Pre Code Comics listed**
Title: The Vault of Horror No. 25
Date: July 1952
Pub by EC Comics
Condition: Cover has light fading over the front. Top left has small tape at very edge and bottom right has small missing corner, taped inside. Two number in black on the front. Very light pulling at the staples. Back is clean, tape on top right edge and light toning all over. Binding is tight and the pages are very crips and clean with bold and strong colors.
"Cover by Johnny Craig. "Seance!", script and art by Johnny Craig; John Chalmers hands over his check for $20,000 to several confidence men (unbeknownst to him); he dies and his widow conducts a séance. "Kickin' the Gong A Round!", art by Jack Davis; Marko had worked his way from the slums to a pro boxing career, and easily knocks out his last opponent before the championship match he'd waited to fight in; two visitors pull a gun on him and take him away to the training camp of the man he is to fight next: Jake Houseman. "Paradise!" text story by William M. Gaines. "Practical Yolk!", art by Jack Kamen; Fred Hamilton having visited the Belgian Congo for a hunting expedition, was now on his way home with B'uuna, his servant, to wed his finacee, Louise; Louise presented B'uuna with a present: an Easter egg with a scene of a rabbit and tiny eggs inside. "Collection Completed!", art by Graham Ingels; Anna had always loved animals and one day she saw a stray cat and brought it in to feed, but Jonah didn't approve; To get even with Anna, Jonah started his new hobby: taxidermy. 36 pgs., full color."
If you have any questions or need additional information, please feel free to contact me.
Noted:
Over seas buyers please email me for shipping quote, please provide me with a shipping address and postal code.
Detail photos Click to enlarge