⬅ Return to collection
Mid-century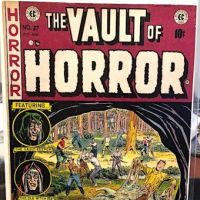 The Vault of Horror No. 27 November 1952 Published by EC Comics Precode Horror Comic Original Cover by Johnny Craig
The Vault of Horror No. 27 November 1952 Published by EC Comics
**Sames Estate as the other Pre Code Comics listed**
Title: The Vault of Horror No. 27
Date: November 1952
Pub by EC Comics
Condition: The Cover is in VG+ with slight wrinkle at the top edge and small mark on the right top area of the cover. The colors are strong and crisp. The Back Cover Very Fine with only slight signs of use and soiling. The Binding is tight with very minimal sigs of use, crips pages and bold colors throughout.
If you need more image please tell me what areas you need photographed.
"Cover by Johnny Craig. Ad for MAD #1. "Silver Threads Among the Mold!", script and art by Johnny Craig; Cedric wants to marry a model named Christine; he makes a statue of her. "People Who Live in Brass Hearses," script by Al Feldstein and Bill Gaines, art by Jack Davis; The children ran up to the hearse as Mr. Byrd drove by, yelling things at him as he made his way to the general store; They couldn't understand why a man, who was NOT an undertaker, would drive such a contraption. "Treasure!" text story by William M. Gaines. "Strictly from Hunger!", art by George Evans; The posse stands before the mouth of the dark cave, where they had trailed a creature that had killed ten of their own, stripping their flesh from their bones. "A Grim Fairy Tale!", script by Bill Gaines (co-plot) and Albert B. Feldstein (co-plot, script), art by Graham Ingels (as Ghastly); A tiny kingdom is overrun with rats. 36 pgs., full color."
If you have any questions or need additional information, please feel free to contact me.
Noted:
Over seas buyers please email me for shipping quote, please provide me with a shipping address and postal code.
Detail photos Click to enlarge