⬅ Return to collection
[uncategorized]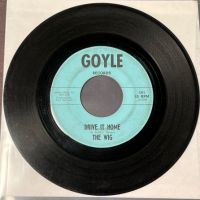 The Wig Drive It Home b/w To Have Never Loved At All on Goyle Records Austin Texas Garage Band 1966
The Wig Drive It Home / To Have Never Loved At All on Goyle Records 101.
Austin, Texas garage band that started in 1964 with John "Toad" Andrews, Boz Scaggs, Bob Arthur, Steve Miller (apparently very briefly) and Benny Rowe.
They had two singles, 1966 this single and one in 1967. Both singles came out on different labels. Goyle Records had only two releases, this and another single by another band. The Wig second single came out on Blacklight which was another small label with only a handful of releases.
Listen Here
SIDE 1

SIDE 2


Condition: Vinyl is low VG+, has very low surface, low and can be slightly heard but music is still strong with strong tones and music separation of instruments. SIDE 2 plays equal. Visually both sides have very light marks but no tracking issues on either side. Labels have slight soiling and SIDE 2 has name in marker. Sleeve is generic white.
If you have any questions or if you need additional images, please feel free to email me.

Note:
shipping cost is for US only, if you are an over seas buyers please email me your shipping address to get a shipping quote.
Detail photos Click to enlarge