⬅ Return to collection
1st Edition : Out Of Print : Rare & Unique : 1800s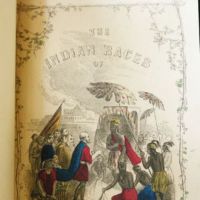 The Indian Races of North and South America by Charles De Wolf Brownell Pub. 1853 Leatherbound HDBK
Title:
The Indian Races of North and South America- An Account of the Principal Aboriginal Races; a Description of Their National Customs, Mythology, and Religious Ceremonies; the History of Their Most Powerful Tribes, and of Their Most Celebrated Chiefs and Warriors; Their Intercourse and Wars with The European Settlers; And a Great Variety of Anecdotes and Descriptions, Illustrative of Personal and National Characters.
By: Charles De Wolf Brownell


Published in 1853 by Cincinnati: Morse & Gordon and Hartford: Lucius Stebbins.
Full leather binding with detailed tool designs on front and back, marbled papers in front and back pages.
Not titled on the spine. Last page is miss marked with 720
Book owners embossed stamps on front and back and in the middle of the book.


Steel engraved plates and hand colored. Please see some examples below.

Condition: Binding is tight, wear to the leather binding through out, some pages have torn top edge corners. Some foxing at the beginning of the book. Marble end papers show wear. Please see images for described damage and or wear.

Size: 9" high x 6 1/4" wide x 2 3/4" deep

If you have any questions or need additional images, please feel free to email me.

Detail photos Click to enlarge