⬅ Return to collection
1st Edition : Vintage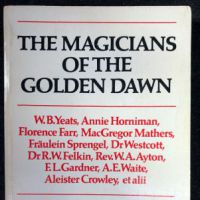 The Magicians of the Golden Dawn by Ellic Howe 1978 Pub By Samuel Weiser
The Magicians of The Golden Dawn by Ellic Howe, paperback, pub by Samuel Weiser 1978

The Magicians of the Golden Dawn. A Documentary History of a Magical Order: 1887-1923

"The first edition of this excellent historical study of the individuals associated with the early Golden Dawn - notably W. Wynn Westcott, Anna Sprengel, Samuel Liddell MacGregor Mathers, Moina Mathers, W.B. Yeats, Florence Farr, Annie Horniman, Rev. W.A. Ayton, Dr. Edward Berridge, J.W. Brodie-Innes, Frederick Leigh Gardner, Allan Bennett, Dr. R. W. Felkin, Christina M. Stoddart, Madame Horos and, of course, Aleister Crowley. Although written over forty years ago it remains the standard reference on the subject."

Size: 5 1/2 x 8 1/2 inches
Condition: Near Perfection condition, tight binding and very minimal signs of use. Previous owner's name in front. Please see images for details.

If you have any questions or if you need additional images, please feel free to email me.
Note:
shipping cost is for US only, if you are an over seas buyers please email me your shipping address to get a shipping quote.
Detail photos Click to enlarge