⬅ Return to collection
Vintage
This item has been sold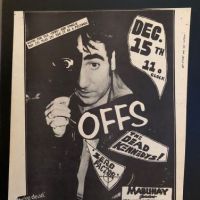 The Offs and Dead Kennedys 1978 Punk Flyer Mabuhay Gardens Original
This version was used in Fucked Up and Photocopied book, documenting the early art of Punk Flyers.

THIS IS NOT A REPRINT OR COPY, THIS CAME FROM A PRIVATE COLLECTION WHO WAS IN SAN FRANSISCO AT THIS TIME.

What a lineup, The Offs with the opening act, Dead Kennedys and Zero Factor playing at the Mabuhay Gardens in San Fransisco.
The show is advertising the new Offs single, either Johnny Too Bad or Everyone's a Bigot, both released in 1978.

Year: 1978 December 15th

Size: approx 8 1/2 x 10 1/2 inches
Conditions: Near perfect with slight edge wrinkle from years in a drawer.

Detail photos Click to enlarge