⬅ Return to collection
1st Edition : Mid-century
This item has been sold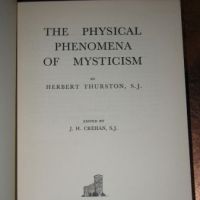 The Physical Phenomena of Mysticism by Herbert Thurston 1952 Pub. by Henry Regnery Hardback
The Physical Phenomena of Mysticism by Herbert Thurston
Published by Henry Regnery Company in 1952.
First edition hardback, blue cloth end boards.

Contents include:
Levitation, Stigmata, Tokens of Espousal, Telekinesis, The Luminous Phenomena of Mysticism, Human Salamanders, Bodily Elongation, Incendium Amoris, The Odour of Sanctity, Incorrution, The Absence of Cadaveric Rigidity, Blood Prodigies, The of Mollie Fancher, MOre Seeing Without Eyes, The Mystic as Hunger Striker, Living Without Eating and Multiplication of Food.

If you have any questions or need additional photos, please feel free to email me.


Detail photos Click to enlarge