⬅ Return to collection
Mid-century
This item has been sold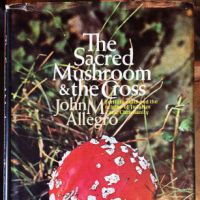 The Sacred Mushroom and The Cross By John Allegro Hardback with Dusk Jacket
3rd Edition of the popular but hard to find book; The Sacred Mushroom and The Cross: Fertility Cults and The Origins of Judaism and Christianity by John M. Allegro
Published by: Double Day and Garden City
Year: 1970
Hardback with Dust Jacket, unclipped Dj

Size: 6 1/2 x 9 1/2
Condition: Fine with slight wear to approx 1/4 way in to the spine, slightly pulled. Name of previous owner on first page. No other writing inside book. Dj has some chipping on the top edge and slight discolor to the back of DJ. Please see images for details

If you have any questions or if you need additional images, please feel free to email me.


Detail photos Click to enlarge