⬅ Return to collection
1st Edition : Modern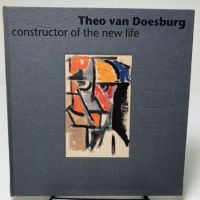 Theo Van Doesburg Constructor of The New Life by Evert van Straaten Kroller Muller Museum 1994 Hardback
Theo Van Doesburg Constructor of The New Life by Evert van Straaten Hardback Ed. 1994
Title: Theo Van Doesburg Constructor of The New Life
by: Evert Van Straaten
Published by: Kroller-Muller Museum, Otterlo
Year: 1994
ISBN: 9074453112
Hardback with printed inset image of art by van Doesburg. The boards are dark gray cloth.
127 pages
The book has amazing color and black and white photos of his work and his sketchbooks. Theo Van Doesburg was the leader of the modernist group De Stijl along with Piet Mondrian. His work and life became one, building his art to reflect the life and new ideas of the post WWI Europe. His writings and teachings would be used in the Bauhaus a few years later. A huge and monumental figure of the early 20th century art movement.
Size: 8 3/4 x 9
Condition: as new, very minimal signs of use. The binding is tight with no markings inside. Please see the images for details.
Please feel free to email with questions or if you need additional images.
NOTE:
The shipping price is for US buyers only, over seas buyers please contact me before purchase with your shipping address to get a shipping quote.
Detail photos Click to enlarge