⬅ Return to collection
Art : 1900-1940s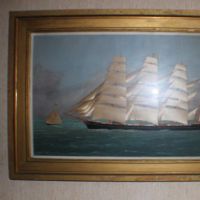 Thomas Willis Oil Painting w/ Applied Silk Sails Golden Gate Steamer Ship Circa 1910
**This painting has hung in a private estate since the 1920's and has never been seen or on the market before**
Thomas Willis Oil on canvas with applied sails.
Circa 1900
The mast ship is "Golden Gate"

According to the estate, the original owner, Dr. Kjelgaard. was the one who commissioned of the painting from the artist and later sold to the estate's grandfather Dr. Harry Howland in the 1920's where the painting has remained to this day.

Size: Approx 3 feet
Condition: Near perfect condition, with original frame and glass. So original from the artist.

Bio:
Thomas H Willis (1850-1925)
"American painter who combined marine art, folk art, and needlework in his portraits of American and European sailing ships, steamers, and yachts. Willis was apparently born in Connecticut, and lived and worked in New York City for a manufacturer of embroidery thread. His works feature oil painted backgrounds, with vessels constructed of silk, velvet, and embroidery floss."
According to research, the son was the only available authentication of the art. In a article he states that all his fathers paintings were behind glass and states that any painting without the glass is not considered original.
The Painting is three mast merchant shipped named " Golden Gate", no information is available about this vessel at this time.
Also included in the painting is a steamer ship to the right of the Ship. A two mast Sloop is on the left side of the ship.
Having three vessels is a more of a rarity in the subject for Thomas Willis.


Detail photos Click to enlarge