⬅ Return to collection
Antique Accessories : 1800s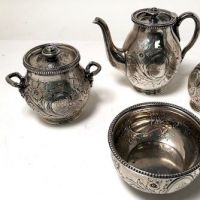 Tiffany & Co. Pattern Number 97 Hallmarked with Letter "M" J. C. Moore Tea Set Sterling Silver
The Tiffany & Co. has long been the arthouse for gold and silver and early decorative arts in America. Founded in 1837 by Charles Lewis Tiffany and John Young, the company would become what is it is known for in 1853 and was lead solely by Charles Tiffany. This is when the son became the lead designer and director, Louis Comfort Tiffany.
The use of Sterling Silver.."in 1851, when Tiffany signed an agreement with leading New York silversmith, John C. Moore, to make hollowware pieces. Moore followed the standard for English sterling, which was eventually adopted by the United States. Tiffany later merged operations with the Moore workshop. Johhn's son, Edward , active in his father's company before Tiffany purchased, later become Tiffany's Chief Designer, responsible for both silver and jewelry design. The younger Moore would become the guiding force behind Tiffany's silverware business for the next forty years."
Making this set of Tiffany Silver a very early production and pattern.
All pieces are hallmarked with "M" and the beautiful chase work is amazing. Monogramed on the side with two pieces having a Elk head on the opposite side.


Condition: Very fine with light signs of use and wear The handle on the teapot has the original spacer, that shows wear and age but still intact with a firmly attached handle.
Tiffany & Co. Pattern Number: 97 Hallmarked with Letter "M" (c. 1854-1870 by J. C. Moore)

Waste Bowl
Weight 6.68 oz.
Size 2 3/8" tall x 4 5/16" wide
Order number 4931
Small Teapot
Weight: 13.51 oz
Size: 5 1/2" tall
Order number 4931
Creamer
Weight: 5 oz
Size: 5"
Order Number 2903
Lidded Sugar Bowl
Weight: 9.73 oz
Size: 4 1/4" tall
Order Number 1364
"Gold & Silversmith" and 550 Broadway Mark on bottom

Total Weight: 34.92 oz (31.82 troy oz)
Pattern: Ivy with Rose


If you have any questions or if you need additional images, please feel free to email me.

Note:
shipping cost is for US only, if you are an over seas buyers please email me your shipping address to get a shipping quote.
Detail photos Click to enlarge