⬅ Return to collection
Tintype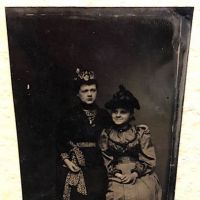 Tintype of Two Women with Amazing Detailing on Clothes Circa 1890s
A older and younger woman Tintype. What I really like about this image are the clothes, they have quality to melts into the back ground while the other is so highlighted. The woman to the left is the older woman who with her dark clothes melts to the background, only her hat, scarf and sash stand out. The woman seated, the younger one has a shinny top that highlights the lighting. The dress is a tight checker pattern that is very crisp in detail. The young woman's smile is so opposite of the older woman.
No date or indication who these two are.
Year: circa late 1800's
No mat or case is with the tintype.
Size: 2 1/2 x 3 1/2 inches
Condition: Very good with strong crips details. The varnish is not crackling, slight bend to the to of the tin, left side. Old sticker residue mark on the back of tintype.
If you have any questions or need additional information, please feel free to contact me.
Note:
Over seas buyers please email me for shipping quote, please provide me with a shipping address and postal code.
Detail photos Click to enlarge