⬅ Return to collection
Art : Mid-century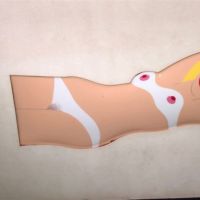 Tom Wesselmann Cut Out Nude 1965 Pencil Signed Hand Cut Mat 1966 from 11 Pop Artists, Volume 1 1965 Published in 1966
The great Pop artist, Tom Wesselmann "Cut Out Nude" 1965 Pencil Signed on lower right edge of hand cut mat.
Published in 11 Pop Artists, Volume 1 1965, published in 1966
11 Pop Artists, Volume 1, Original Editions, New York, 1965 Portfolio; the complete set of 11 signed and numbered prints in various media on various papers, each piece was signed except for Andy Warhol
The Edition was out of 200, each pencil signed and numbered.
Medium :Screenprint on plastic mounted on die-cut board
Size: 9 × 17 1/4in.
Mat opening is irregular, approx. 16" long
Condition: The silkscreen image is very fine, with no fading or breaks or damage. The Back of the mat you can see some areas where the adhesive has unfastened from the silkscreen. The mat does have aging and toning issue with some slight areas of soiling. The Pencil Signature has faded but still can bee seen. I can not find the pencil number edition, it has faded and can not see. Please see the images for more details.
Note, any marks on the silkscreen are from photographing, the piece is not damaged.
Short Bio:
Tom Wesselmann (1931-2004) was one the early artist of the Pop Art Movement, Wesselmann's series Great American Nude (begun 1961) which gained him his early notoriety and attention. The Great American Nude was done in a limited palette of Red, White and Blue.
Never liking the term Pop Art, "Wesselmann had begun working on a new series of still lifes. experimenting with assemblage as well as collage. In Still Life #28 he included a television set that was turned on, "interested in the competitive demands that a TV, with moving images and giving off light and sound, can make on painted portions".
Wesselmann contended the Great American Nude up into the 70's with variations on the medium, assemblage, molded plexi, installation and of course the silkscreen molded plastic of the Cut Out Nude.
If you have any questions or if you need additional images, please feel free to contact me.

Note:
Over seas buyers please contact me before purchase with postal code to get a shipping quote. Shipping cost posted is for Domestic shipping only.
Detail photos Click to enlarge