⬅ Return to collection
Art : 1800s
This item has been sold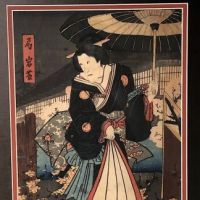 Toyokuni III Also Known as Kunisada Utagawa Japanese Oban Woodblock Circa 1851 Samurai with Wagasa Umbrella
Kunisada Utagawa (1786-1865)
In this wood block he is known as " Toyokuni ga. He changed his name to Toyokuni III in 1844. The same signature was used by Toyokuni II (Toyoshige or known as Hongo Toyokuni, 1777-1835)"
Year of the Ox/ 3 1851

This very nice and bold Oban woodblock shows the samurai in full robes with sword handle at the waist. A very nice striking with the texture of the plate showing through on the white, the inside of the kimono and also at the top of the neck. The rich and dark colors stand out well and the woodblock shows only minimal fading to the colors.
Framed with Museum glass and a double mat.
I have not taken the woodblock out of the frame.
Size: Frame is 15 1/2 x 20 inches
If you have any questions or need additional images, please feel free to contact me.
Note:
Shipping is for US buyers only. If you are an over seas buyer please contact me before purchase with your shipping address to get a quote.
For safety, I can remove the glass of the woodblock to help protect and to decrease the cost of shipping. Please email before purchase if you would want me to do this.
Detail photos Click to enlarge