⬅ Return to collection
1st Edition : Out Of Print : 1900-1940s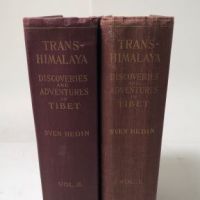 Trans-Himalaya Discoveries and Adventures in Tibet by Sven Hedin in Two Volumes 1909 MacMillan Company with Fold Out Maps
The art of the aristocratic world traveler and the days of grand tours gave many objects and journals and travel logs documenting the then unknown world of the orient. The tribes, customs, art and landscape of these lands were profusely documented and many were fabricated to jump on the band wagon of the "discoverer" but some like Hedin, documented in detail the travels and customs and mapped these then unknown regions to the western world.
A wonderful example of these travel books is edition.
Trans-Himalaya. Discoveries and Adventures in Tibet by Sven Hedin in Two Volumes.
With 388 illustrations from photographs, water-colour sketches, and drawings by the author and 10 maps.
2 volumes
Published in 1909 by MacMillan Company
Hardback in red maroon with gilt binding and front board has gilt illustration of Sven Hedin in Tibetan clothing.
Both volumes are complete, volume 1 has the 7 photographic maps and the Volume 2 has the three fold out paper maps, please see images of these.
Sven Hedin, according to online source.."a Swedish geographer, topographer, explorer, photographer, travel writer and illustrator of his own works. During four expeditions to Central Asia, he made the Transhimalaya known in the West and located sources of the Brahmaputra, Indus and Sutlej Rivers. He also mapped lake Lop Nur, and the remains of cities, grave sites and the Great Wall of China in the deserts of the Tarim Basin. In his book Från pol till pol (From Pole to Pole), Hedin describes a journey through Asia and Europe between the late 1880s and the early 1900s. While traveling, Hedin visited Turkey, the Caucasus, Tehran, Iraq, lands of the Kyrgyz people and the Russian Far East, India, China and Japan."
Condition: both books are ex library books with bookplate from library. First page has pencil sale price. Volume 1 has a faded spine and still showing the gold. Binding is intact but appearing worn, no pages are loose and all photos and maps are intact. Slight soiling and aging to some pages. Volume 2 is in very good contain with same issue of used binding, intact but shows signs of use. The Three tipped in maps are intact and with some staining to the edges. Please see the images of the books for more details.
If you have any questions or if you need additional images, please feel free to email me.

Note:
shipping cost is for US only, if you are an over seas buyers please email me your shipping address to get a shipping quote.
Detail photos Click to enlarge