⬅ Return to collection
[uncategorized]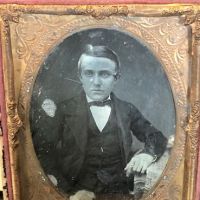 Tucker Daguerrotype of Young Man Sitting Baltimore Daguerreotype 101 Baltimore Street Quarter Plate Hand Tinted Circa 1851
Daguerrotype of Young Man by Baltimore Daguerreotypist Wesely Tucker 101 Baltimore Street Circa 1851
Tucker Daguerrotype of Young Man Sitting Baltimore Daguerreotype 101 Baltimore Street Quarter Plate Hand Tinted
A previous post I had a Gorham & Tucker Ruby Ambrotyope and in the research for the image, I found that Tucker retired from Photography in 1856. This image is of a young man but the details of the time line of the photographer comes into more detailed focus.
We can see here that the address of both Studios is the same, 101 Baltimore Street but this one is the sole propriotor of just Tucker. The transition from Daguerreotype to Ambrotype is approx 1954 and according to Baltimore Daguerreans, S-Z compiled by Ross Kelbaugh, Wesley Tucker, born in 1828 was at the Address of 101 Baltimore Street starting in 1851 as a photographer.
Judging by the image and mat is circa 1851.
No information on who the sitter is, no name or date located on or inside the case. The seals are original on the back.
Size: Quarter Plate: 3.25 x 4.25 inches
Condition: The lid is not attached. The image is faded and held at an angle you can see scratches, like someone tried to clean the plate. There is a a mark on the left side , next to the sitters shoulder. The brass mat is aged and dull. I have not cleaned or altered this item.
If you have any questions or if you need additional images, pleas feel free to contact me.
NOTE:
If you are an over seas buyer, please email with your shipping address before you purchase to get a shipping quote. The price listed for shipping is for US Buyers only.
Detail photos Click to enlarge