⬅ Return to collection
Art : Culture : Mid-century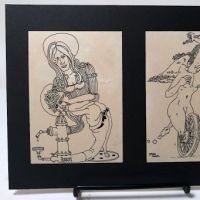 Two Original Ink Drawings by Ed Badajos Circa 1969 Sawyer Press Underground Comix Artist Filipino Food
Ed Badajos…"Born and raised in Honolulu, Hawaiï, Ed Badajos was known primarily for his political cartoons, visual commentaries, and covers. He was the editorial cartoonist for the L.A. Free Press and his work appeared in The Staff and The Berkeley Barb. Badajos gained further exposure through syndication in the underground press of the '60s and '70s. His work is published in books like 'Dick! The Nixon Era' and 'Filipino Food'."
Another artist, similar to the Ron Cobb I have posted to my site, this comes from the same collection and estate. When I said the estate knew these people, they knew the the characters. Along with Cobb, they also knew the great Karl Metzenberg, more about him another time and another post.
Ed Badajos, his art had a surrealist and absurdist style, a perfect example is in these two hand drawn images. The left one, the "angel" pushes the man's face into the hydrant but the circle of her body going into the hydrant and drips out and fed back into and creating the figure she is pushing. Signed on the lower margin. This is an original Pen and Ink piece, I have tried to photo with detail to see the precise and continues lines Badajos does in his art.
The second piece is titled " Speed Angel", can you see where he is going? In this angel, hand raised with a syringe impaled and giving a stigmata to the angel. The surrealist part comes into the morphing of the legs into the wheel and of course the joke and absurdity wouldn't be complete without the wit of Badajos giving the "biker" a training wheel and the "exhaust" of the "Speed Angel". Signed on the top right margin and titled on the lower left margin, "Speed Angel".
Both images are original pen and ink drawings and are done freehand, no pencil marks can be seen under the ink. An amazing talent and wit filled artist.
Condition: both images are mounted to the black board. Light toning to both images but not damaging or altering the art in any way. Please see the images for more details.
Size: 4 x 5 3/4 inches
If you have any questions or if you need additional images, please feel free to email me.

Note:
shipping cost is for US only, if you are an over seas buyers please email me your shipping address to get a shipping quote.
Detail photos Click to enlarge