⬅ Return to collection
Cabinet Cards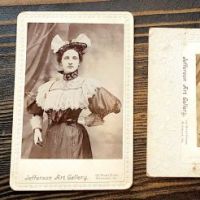 Two Very Rare Portrait attributed to James Conway Farley Jefferson Art Gallery Richmond VA. 1896 Cabinet Cards 
Two Very Rare Portrait attributed to James Conway Farley Jefferson Art Gallery Richmond VA. 1896 Cabinet Cards
"James Conway Farley is recognized as the first African American photographer. Photography became popular in the 1840s, but very few African Americans were involved in the early years of its introduction to the public. Farley overcame adversity and discrimination to master the photographic process and become a successful businessman.
In 1895, Farley started his own photography studio, the Jefferson Fine Arts Gallery. His gallery specialized in taking the photos of individuals and groups and converting them into greeting cards. Because of the excellent work that Farley produced, he was sought after by whites and African Americans."
Background on the Jefferson Art Gallery:
"In August 1895 the Richmond Planet announced 'The New Gallery': 'Mr J C Farley and Mr George O Brown have opened a high-class photograph gallery at 523 E Broad St…Their palatial establishment is known as the 'Jefferson'.' The name echoed that of the grand new hotel that opened the same year in Richmond. Though Brown and Farley were the main figures, and featured by name in the advertisement in the Richmond Planet, the manager for the first two directory listings in 1897 and 1898 was a white photographer named Churchill Webster. The gallery had
both white and black clientele, so whether Webster represented white ownership of the gallery or was hired to make white customers fell
comfortable is not clear."
Both images are dated on the back on pencil from the estate, the single woman, #1 is dated June 1896 and the second, #2 is not, but from the same estate. You can see the style of the women's clothes and the hair style, the date is very close to the previous images, perhaps 2-3 years
#1 has a stared boarder with the name of the studio and address on lower margin
#2 horizontal image, textured floral boarder with name of studio and address, both matching, on the left margin.

The two images have a name of Beulah and the image with the single woman is Beulah at age 16 in 1896. The Second image is Beulah with Cone (sp?) and she is labeled as "younger". The second image has the street address still at 523 Brand Street.
A very rare piece of African American History and American Photographic History
Size: Image #1 5 1/8 x 3 3/8 inches
Image #2 6 x 4 1/4 inches
Condition: #1 image is in very crips and very good condition. Very light bumps to the edges. #2 image has light soiling to the card and light staining on the top right corner, please see the images of both and if you need additional images, please feel free to contact me.
If you have any questions or if you need additional images, please feel free to email me.

Note:
shipping cost is for US only, if you are an over seas buyers please email me your shipping address to get a shipping quote.
Detail photos Click to enlarge