⬅ Return to collection
[uncategorized]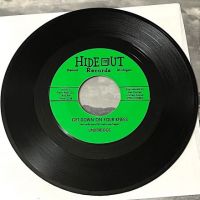 Underdogs Get Down On Your Knees b/w Surprise, Surprise on Hideout Records 1966 Michigan Garage with Weldon McDougal Chips Record Distro Sticker
Underdogs Get Down On Your Knees b/w Surprise, Surprise on Hideout Records H-1011.
The band was from Grosse Pointe, Michigan and were released on the Harper Woods, Michigan's Hideout Records. The label was founded by Dave Leone and Punch Andrews as an adjunct to the Hideout teen clubs they ran in suburban Detroit, Michigan.
They would have three releases on the Hideout Records, two in 1965 and one in 1966, this single being their last on Hideout Records.
The B side of the record has a sticker of Chips Disto. Weldon McDougal, singer, songwriter, record producer and a record label executive. He also founded the Philadelphia recording group The Larks.
Around 1964, McDougal had begun work with Chips Distributors and then moved to Motown in 1967 as promoter.

The A Side is a sexual innuendo song and had a strong Rolling Stones vibe, the B side being a Rolling Stones from a release in 1965.
Listen Here
SIDE 1

SIDE 2

Condition: Vinyl is high VG+, very clean looking, sounds great with a tiny hint of light crackle, only slightly heard but very faint. Very clean label. SIDE 2 has small snag on the label edge and owner sticker Chips Disto. Weldon McDougal. Sound is great with almost no issues. Sleeve is generic white.
If you have any question or need additional images, please feel free to contact me.
NOTE:
International orders. Shipping will be $18. Please contact me before purchase if you are an International buyer. I will need to adjust the shipping price to reflect a correct shipping cost to you.
Detail photos Click to enlarge