⬅ Return to collection
Numbered Artist Editions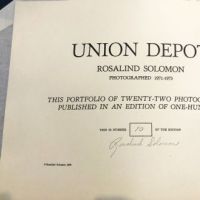 Union Depot by Rosalind Fox Solomon Photographed 1971-1973 Signed and Numbered 10/100 Folio
Union Depot by Rosalind Solomon Photographed 1971-1973 Signed and Numbered 10/100 Folio

Portfolio of 22 photographs Edition of 100 in printed spine clam box. Each page is separated by a glassine paper
Signed on the front in pencil with hand numbered. Please see the images of the title page.

This portfolio of twenty-two photographs is published in an edition of one-hundred. This is number 8 of the edition." Signed by Rosalind Solomon.
Loose-leaf.
Includes a brief history of the Union Depot and chronology

Rosalind Fox Solomon: an American photographer based in New York City born April 2, 1930 in Highland Park, Il.

"….graduated from Goucher College in Baltimore, Maryland with a Bachelor of Arts in Political Science. She became involved with Experiment in International Living, an exchange program that took her to Belgium, France, and Japan, where she took up photography in 1968 using an instamatic camera. Having found a gratifying means for personal expression, Solomon purchased a 35mm Nikkormat, set up a home darkroom and began photographing in earnest. From 1974-1976 she studied privately with Lisette Model during intermittent visits to New York City. It was Model who suggested Solomon work with a 2-1/4 x 2-1/4 inch camera in order to master the medium-format she would come to prefer…Solomon's interest in people and their interactions with each other, society, and their environment has consistently informed her work. In 1975 she was invited to exhibit her unflinching humanistic portraits of hospital patients in Tennessee at the Birmingham Museum of Art."

Published by the artist and is was printed by.. " Custom Darkroom Work by Sidney Kaplan"

Size: clam box is approx. 11 3/4 x 15 1/2 x 1 1/2

Condition: the clam box is soiled on the front and back with small edge splits to the top and bottom of the dark cardboard edge. The spine is in fine strong condition. The photos and pages are in near perfection condition. A few glassine inserts are wrinkled. Please feel free to ask for more images if you needed

If you have any questions or need additional information, please feel free to contact me.

Noted:
Overseas buyers please email me for shipping quote, please provide me with a shipping address and postal code.


Detail photos Click to enlarge