⬅ Return to collection
Daguerreotype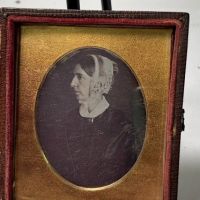 Unique Daguerreotype of Woman Photographed in Profile Case Image Circa 1850
The Daguerreotype came and changed the course of portraiture, the late 1700's in American had the style of silhouette portraits and they were done in profile. We did these simple line drawing in school, were your profile was traced onto paper. This style goes back of course but the uniqueness of this image is the fact the photograph was done in profile. The Profile portrait was way out of fashion by this point, c. 1850 but the photographer chose to take the image of this woman in profile. I have not seen very many daguerrotype images done this way.
The case is not marked nor is the photograph. There is writing on the underside of the case but does not give details of who this sitter was.
The woman is older with typical clothing and style of the time for a "older" woman.
The daguerrotype is hand tinted on her face and cheeks.

Size: Sixth Plate - 2.75 x 3.25 inches
Condition: the is very clean with slight fade to the image, but you can still make out the amazing detail of her clothing and of course her face. The case has some wear from age and storage. The inside has fading to the red silk. The brass mat is tin very good condition. Please see the images for more details.
If you have any questions or need more images, please feel free to email me.
NOTE:
The price listed is for US. If you are an overseas buyer please email me your shipping address before purchase to get a shipping quote.
Detail photos Click to enlarge