⬅ Return to collection
[uncategorized]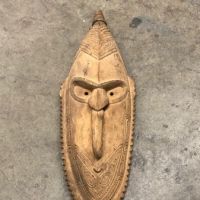 Unpainted Papua New Guinea Ramu Mask From Ex Barron Collection c. 1980
Unpainted Papa New guinea Ramu Rivera area mask. strong and accurate carving on this ceremonial style dance mask. The bottom projection on the mask is a handle of such to hold while dancing.
I have another very similar carving to this one, which appears to be by the same hand and circa around the same time, 1950's-1960's.
On the side in pencil is a name "Judas: is the first name and the last name is very difficult to read but the name begins with "TURIE.."
Stated on the back side of the mask in pen, Ex Barron Collection C. 1980. (Dr. Prof Barron)
"The masks collected in this village were found in the ruins of an old 'Haus Tambaran' (cult house for males only) that had collapsed and was not re-built, 1950's.."

This is not a plundered or stolen item.
Like the previous entry, the Cassowary Bone Dagger, this mask is from the same collection and acquired around the same time.

Size: Length 22 1/2 in.
Condition: excellent with some light storage marks. If you have any questions or need more images, please feel free to contact me.
If you have any questions or if you need more images please feel free to contact me.
NOTE:
The price listed is for US. If you are an overseas buyer please email me your shipping address before purchase to get a shipping quote.
Detail photos Click to enlarge