⬅ Return to collection
Daguerreotype
This item has been sold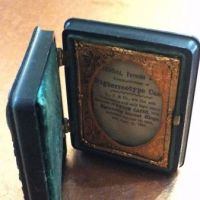 Unused Union Case Littlefield, Parsons & Co. manufacturers of Daguerrotype Cases C. 1850's
Unused Union Case Littlefield, Parsons & Co. manufacturers of Daguerrotype Cases.
Also known as Thermoplastic Union Cases
Original label with glass and mat. The velvet is original to the piece as well.

Please see the images for the details and attributes of this item

Size: Ninth-plate : 2" x 2 1/2 " Size image area. No image was with this piece.
Case measures 3" x 2 1/2
Condition: Near perfect, the bottom of the back has small chip, please see images for this. The Hinges and clasp are intact.

History of Cases:
"The Term "Union" refers to the material construction of the cases, and is derived from the "union" of the cases components; shellac, sawdust, other chemicals and dye for coloring the cases, which was usually black or brown. When these components were mixed together, heated and pressed into a mold, the parts of a Union Case are formed and because of the way they were made, the parts of the cases could take on fine, and in some cases, elaborate details which most Union cases display. This composition material, was and is still called Thermoplastic, and is actually one of the earliest forms of plastic."


I have any questions or if you need additional images, please feel free to contact me.


Detail photos Click to enlarge