⬅ Return to collection
[uncategorized]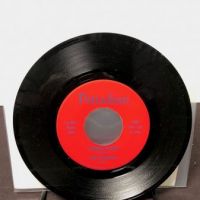 Utah Garage Band The In Mates London Town B Side The Same on Palladium 1966
The In Mates London Town b/w The Same on Palladium – P-5011
A garage band from Utah, from the burbs of Salt Lake City.
The band had one single and was on the label Palladium which this being its one and only release.
The songs are both clean guitar garage, London Town being a slower moody song. The b-side a little faster but still the somber moody style. I like the b side a little more.
Take a listen here
SIDE 1

SIDE 2


Condition: Vinyl is low VG+, visual the record is shiny luster, sounds has a very low and light crackle under the music and slight distortion on high notes, no tracking issues. Both sides play equal and is a very clean record. Sleeve is generic white.
If you have any question or need additional images, please feel free to contact me.
NOTE:
International orders. Shipping will be $18. Please contact me before purchase if you are an International buyer. I will need to adjust the shipping price to reflect a correct shipping cost to you.
Detail photos Click to enlarge