⬅ Return to collection
Art : Lithographs : Mid-century
This item has been sold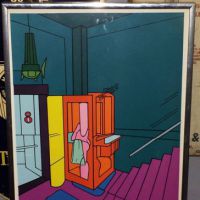 Valerio Adami 1970 Maeght Lithograph Derriere le Miroir Pop Art
Valerio Adami
Medium: original lithograph
Total sheet size: 15 x 11 inches (38 x 28 cm)

This lithograph was printed in 1970 by Maeght for the deluxe art revue Derriere le Miroir (issue number 188). Text back. V
Condition: Very good condition and in original metal museum frame. **This piece has been photographed behind glass, there is no damage. Any distortion is due to photographing this piece.**


Derrière le Miroir (Behind the Mirror)
"Derrière le Miroir (DLM) was an art magazine published between 1946 and 1982 by the French publisher and gallery owner Aimé Maeght. There were a total of 253 editions in 200 volumes. The magazine, itself designed as an art object presented in a large (11" x 15") format, is illustrated with original lithographs as well as a number of reproductions. Poets and writers like Aragon, Beckett, Char, Eluard, Prévert, Queneau, Reverdy, Sartre, contributed with unpublished texts. Most of the major artists of the second half of the twentieth century created lithographs for DLM: Léger, Miro, Calder, Tapies, Chillida, Braque, Matisse, Giacometti, and above all Chagall…"


Almost all of the lithos from this amazing magazine are top quality and many of these are in catalog Raisonne of the artists.

NOTE:
The image has been photographed in the original estate frame. I can ship without the frame for a cheaper shipping cost to you. The Price reflected is the actual cost to ship in frame with the glass.
Shipping without glass will be cheaper and will help ensure the art will arrive safely.
Please email me for a shipping quote to you before purchase.

If you have any questions or if you need additional images, please feel free to email me.

Detail photos Click to enlarge