⬅ Return to collection
[uncategorized]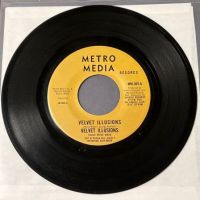 Velvet Illusions Velvet Illusions b/w Born to Be A Rolling Stone on Metro Media 1967 Garage Psych From Washington State
Velvet Illusions Velvet Illusions b/w Born to Be A Rolling Stone on Metro Media MM 309.
A Pacific North West band, from Yakima Washington. The band had 5 singles, all released in 1967. The band started in 1965 with an early leaning toward what would be called psychedelic, 1967 it was still a very new style. With this release, the band 3rd single really cemented their early garage psych sound.
The label is Metro Media, a Hollywood California label.
LISTEN HERE
SIDE 1

SIDE 2


Condition: Vinyl is high VG+ looks very clean with no marks. A faint crackle low sometimes heard, no marks causing crackle. SIDE 2 has very low and crackle below the music, very faint. Labels are both NM-, almost no sings of plays or wear, very clean! Sleeve is generic white.
If you have any question or need additional images, please feel free to contact me.
NOTE:
International orders. Shipping will be $18. Please contact me before purchase if you are an International buyer. I will need to adjust the shipping price to reflect a correct shipping cost to you.
Detail photos Click to enlarge