⬅ Return to collection
Mid-century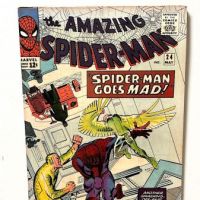 Very Clean The Amazing Spiderman #24 (1st series) May 1965 published by Marvel Top Condition
**Sames Estate as the Pre Code Comics listed**
Title:The Amazing Spiderman #24 (1st series)
Date: May 1965
Pub by Marvel
Condition: Cover is very clean and very pristine, lower edge has a tiny and a couple light bumps to edge and top left edge has a tiny curl on left side and the top right has a faint and tiny wrinkle at edge. Top of spine has a small edge bump. Staples are very tight and almost no signs of use on the front. Cover is very crisp and has bold and strong colors. Back is very clean, top edge has a slight toning to edge. Binding is tight and secure and has almost no signs of use or wear or damage inside to the crips pages. Colors to the pages is strong.
"Spider-Man goes to see a psychiatrist! But it's really Mysterio messing with Spidey's mind in "Spider-Man Goes Mad." Script by Stan Lee, art and cover by Steve Ditko. Cameos (actually part of Spider-Man's imagination) by Doctor Octopus, the Vulture, and the Sandman. Reprinted in Marvel Tales # 19 and 162. Letters to the editor from comics writer Don McGregor and mycomicshop.com president Buddy Saunders! Cover price $0.12"
If you have any questions or need additional information, please feel free to contact me.
Noted:
Over seas buyers please email me for shipping quote, please provide me with a shipping address and postal code
Detail photos Click to enlarge