⬅ Return to collection
Press Photography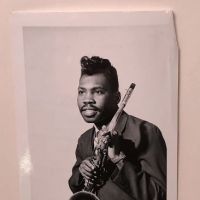 Very Early Press Photos of Tobie Wynn Baritone Sax Player December 1965 Played with Hendrix Buddy Miles and L.T. D. 
A very early and perhaps first Press Photo of Tobie Wynn Baritone Sax Player for Hendrix and L.T.D.
Tobie Wynn or later Toby Wynn, this early dated December 1965 press photo is Tobie at his start. His first recording according to Discogs is with Melvin Jackson in 1969. He would later, no pun intended come into his groove with his work with Buddy Miles and Jimi Hendrix in late 69 and early 1970. His career would lead him to LTD, the great soul groove funk band of the mid to late 70's.
This early press photo is identified as Tobie Wynn on the back, written in pen. The front of the press photo is dated on the bottom margin Dec 1965.
I believe this is one of the earlist image of him in his music career.
Size: 3 1/2 x 5 inches
Condition: Very fine, top right corner having a small bend to the corner. The back name is in good condition. Please see the images for more details.
If you have any question or if you need additional images, please feel free to email me.
NOTE:
The shipping price is for US buyers only. If you are an overseas buyer, please contact me before purchase with your shipping address to get a quote.
Detail photos Click to enlarge