⬅ Return to collection
[uncategorized]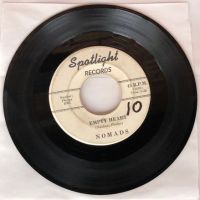 Very Rare 1966 Forth Worth Texas Garage Single by Nomads Be Nice b/w Empty Heart on Spotlight Records
Nomads Be Nice on Spotlight Records.
One of the great Forth Worth Texas Bands, their one and only single from 1966 on Spotlight Records. The label only had three releases and this being one. Not a lot of information on the band, there is a listing with a Picture Sleeve but I have never seen one and my client hasn't seen one and he has been a collector for 60 years. The songs have been on many comps, Back from the Grave and well highlighted on Texas garage comps.
Listen Here:
SIDE 1

SIDE 2


Condition: Vinyl is low VG+, has marks on both sides but sound is great with some light surface noise below the music and slightly distorted but a lot left in this amazing record, with great tones and still very clear sounding. Label has light soiling from storage and SIDE 2 has black marker number 10. No tracking issues on either side. Sleeve is generic white.
Detail photos Click to enlarge