⬅ Return to collection
Mid-century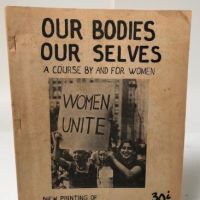 Very Rare 1971 4th Printing of Our Bodies Our Selves, a Course By and For Women 30 cent cover print Stapled Binding
**Same collection as Weather Underground. Client Lived and Worked in Cambridge Mass Radical Book Store "The Red Book"**

1st edition 4th Printing of Our Bodies Our Selves A Course By and For Women. printed newspaper print with staple binding. Printed on the front cover 30 cents and includes "New Printing of Women & Their Bodies"
This printing, 4th edition was an edition of 25,000.
Very rare copy of the book from the movement that gave and preserved Women's rights. Still used in education and still important now as it was back when the magazine/ book was published. Here is some background on the movement and the book.
From Our Bodies Our Selves Website: "In May of 1969, as the women's movement was gaining momentum and influence in the Boston area and elsewhere around the country, a group of women met during a "female liberation conference" at Emmanuel College.In a workshop on "Women and Their Bodies," they shared their experiences with doctors and their frustration at how little they knew about how their bodies worked.
The discussions were so provocative and fulfilling that they formed the Doctor's Group, the forerunner to the Boston Women's Health Book Collective, to find out more about their bodies, their lives, their sexuality and relationships, and to talk with each other about what they learned.
They decided to put their knowledge into an accessible format that could be shared and would serve as a model for women to learn about themselves, communicate their findings with doctors, and challenge the medical establishment to change and improve the care that women receive.
In 1970, they worked with the New England Free Press to publish a 193-page course book on stapled newsprint entitled "Women and Their Bodies."The book was revolutionary for its frank talk about sexuality and abortion, which was then illegal. The cost: 75 cents.
In 1971, they changed the title to "Our Bodies, Ourselves" to emphasize women taking full ownership of their bodies. The book quickly became an underground success, selling 225,000 copies, mainly by word-of-mouth. The cost this time around: 30 cents.
In 1972, after strenuous debate, the group of founding authors decided to publish with a mainstream publisher in order to reach a wider audience. They formally incorporated as the Boston Women's Health Book Collective and negotiated a contract with Simon & Schuster that included a 70 percent clinic discount for low-income women and provision for a U.S. Spanish translation. "Our Bodies, Ourselves" (1973) / Published by Simon & Schuster (click for a larger image) The first commercial, expanded edition of "Our Bodies, Ourselves" was published in 1973. The Preface and the first chapter, "Our Changing Sense of Self,"
The book is newspaper printed in three section and bound together with staples. Text and images.

Size: 8 1/2 x 11 inches
Condition: Very good with slight pulling and tears on the cover at the staples. Light soiling and discoloring to the front and small chipping at the bottom edge and side edge. Back has light pulling at the staples with light water staining on the back, goes into the last couple pages only. Very rare condition for age and material. Please see the images for more details.
If you have any questions or if you need additional images, please feel free to email me.

Note:
shipping cost is for US only, if you are an over seas buyers please email me your shipping address to get a shipping quote.
Detail photos Click to enlarge