⬅ Return to collection
Other : 1920-1930
This item has been sold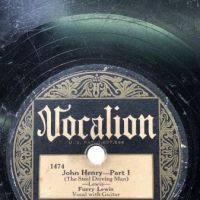 Very Rare 78 rpm on Vocalion 1474 Furry Lewis John Henry Pt 1 & 2 VG C4
A very rare 78 rpm on Vocalion 1474, Furry Lewis John Henry Pt 1 & 2.
Vocation started in 1916 as as Aeolian-Vocalion a piano and organ company and sold records as Vocalion and the Aeolian was dropped for the record part of the business. In 1920's.."Vocalion also began the 1000 race series, records recorded by and marketed to African American's" and had the amazing and rare recordings of Robert Johnson on the label.
Furry Lewis, born in the late 1800's, circa 1893 and died in 1981 was "one of the first of the blues musicians active in the 1920s to be brought out of retirement and given new opportunities to record during the folk blues revival of the 1960s."
Lewis made his first recordings for Vocalion Records in Chicago in 1927.

Vocalion 1474 was released in 1930 and was the song John Henry ( Steel Driving Man) Pt 1 & 2. The Legend of John Henry was started around 1870's with possibly being related to John Henry who worked on the C&O Railway.
GRADE at C4 (VG)
please refer to the clip provided for audio of the actual 78.
Condition: VG ( 78rpm grade C4). plays with some noise but still very audible, no skips and no visible cracks or breaks. Please refer to the audio tracks of both sides.
If you have any questions or if you need additional images, please feel free to email me.

Note:
shipping cost is for US only, if you are an over seas buyers please email me your shipping address to get a shipping quote.
Detail photos Click to enlarge