⬅ Return to collection
Advertising : Culture : 1900-1940s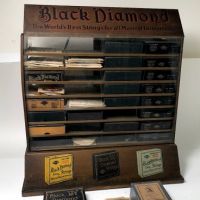 Very Rare Black Diamond String Counter Top Display 1940's with Violin Banjo Mandolin and Cat Gut Strings
Black Diamond Strings were a small but growing company originally a merger of The Standard Musical String and the National Musical String Company from the late 1800's. The companies merged with another the American String Company and these mergers by very early 1940's created the the Black Diamond Company.
The counter top case has boxes of loose strings for Ukulele, Banjo, Mandolin and Guitar and some Violin strings along with some Cat Gut Strings. The Black Diamond were a company that sold strings individually, hence the assortment of strings in this case.
Almost off the strings are in their original packaging and it is a small museum of string history and their logos.

The Black Diamond Counter Top Case is the rarer model that had the top name plate, many for sale do not have this feature.
Beautiful litho printed Black Diamond boxes are on the bottom while the top has the old Goth style lettering of Black Diamond.
The back has both sliding doors intact and the glass appears to be original.

Size: 20 x 10 x 8 1/4 inches
Condition: the cabinet is in very good condition, the left side has a slight top bow to the edge and the there is a small gap at the top. Very light marks can be seen on the bottom with some soiling. I have not cleaned or altered this piece in anyway. The Back as you can has a bent sliding door, the door does slide but the door has some light damage. Writing in marker can be seen on the back. Please see the images for more details and if you have any questions or need additional images, please feel free to contact me.
If you have any questions or if you need additional images, please feel free to email me.

Note:
shipping cost is for US only, if you are an over seas buyers please email me your shipping address to get a shipping quote.
Detail photos Click to enlarge