⬅ Return to collection
1st Edition : Limited : Out Of Print : Mid-century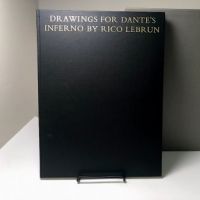 Very Rare Drawings For Dante's Inferno by Rico Lebrun Edition of 2000 with Slipcase Kanthos Press 1963
Drawings For Dante's Inferno by Rico Lebrun Edition of 2000 with Slipcase Kanthos Press 1963
Title: Drawings for Dante's Inferno Rico Lebrun
Published by: Kanthos Press
Year: 1963
Edition of 2000 with four signed in the plate Lithos
Hardback with Slipcase
"..black buckram, gilt lettering on upper cover and flat spine. In the original gray cardboard slipcase. With 36 lithographs in black & white by Rico Lebrun, and FOUR ORIGINAL, SIGNED LITHOGRAPHS laid in at front. List of plates also laid in at front."
"In this series of lithographs, Italian-American artist Rico Lebrun captures the essence of souls in torment: distorted, faceless human bodies writhing in misery, trapped in their own sins, eternally distanced from God, forever without hope. Born in Naples, Lebrun (1900-64) immigrated to the United States at age 24, and built a successful but unsatisfying career as a commercial artist. In 1938 he gave up business and moved to Southern California to create and teach art. His artistic influences include the Italian Renaissance masters, particularly Michelangelo, and the darker, tragic vision of Spanish artists, particularly Goya and Picasso. Strains of both can be seen here, in the sculptural quality of the bodies and the overall sense of foreboding. This series was among the last works Lebrun completed before his death from cancer, perhaps intensifying the awareness of mortality in the work. The Kanthos Press was founded by printmaker Joe Funk (1917-81) in 1962, at a time when there were few lithographers operating in the U.S. He is credited with helping to preserve and promote that medium, which was in danger of dying out in mid-20th century America. (ST15816-24)"
Size: 13 x 17 1/2 inches
Condition: Near Perfect with only a small soil mark on the cover, please see the image of this areas. No marks to the plates, the pages are crips and white. The binding is tight, but has pencil prince numbers on the first page. The slipcase is very fine with minor wear from shelf and storage. Please see the images provided for more details.
If you have any questions or need additional images, please feel feel free to contact me.
NOTE:
The price posted is for US buyers only, if you are an over seas buyers, please email me with your shipping address before purchase to get a shipping quote.
Detail photos Click to enlarge