⬅ Return to collection
Mid-century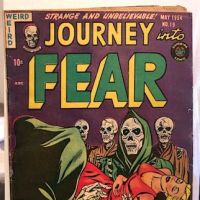 Very Rare Journey Into Fear May 1954 no. 19 Published by Superior Comic Pre Code Horror Comic
Journey Into Fear May 1954 no. 19 Published by Superior Comic
**Sames Estate as the other Pre Code Comics listed**
Title: Journey Into Fear no. 19
Date: May 1954
Pub by Superior Comic
Condition: he Cover has some chipping to the right edge and very minor signs of use to the spine. Very Minor pulling at the staples. Small tape on the lower left of cover. The Back cover has small edge chip top left and the lower right has tape. The Binding is tight, note the pages are irregular and not flush, this is a production defect.
If you need more image please tell me what areas you need photographed.
"Doorway to Death; Art collector Guy Stevens buys a large painting of a castle and discovers that he can open the door in the painting; He begins murdering people and hiding their bodies in the painting. Assignment Horror; Harold goes to an ad agency to promote a movie about giant frogs that conquer the world. Sacrifice to Kaste text story. This Body is Mine! The Flat Man; A man becomes the Flat Man by being run over by a bulldozer. 36 pgs"
If you have any questions or need additional information, please feel free to contact me.
Noted:
Over seas buyers please email me for shipping quote, please provide me with a shipping address and postal code.
Detail photos Click to enlarge