⬅ Return to collection
Historical Memorabilia : Music & Pop Culture : 1900-1940s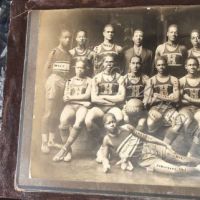 Very Rare Photograph of 1926 Hampton College African American Basketball Signed By All Players
Photograph of 1926 Hampton College African American Basketball Signed By All Players
This amazing and rare Photograph from the very early years of Basketball, which is said to have been created in late 1800s and in the early 1900's being the concepts of modern basketball. So this early image, from the 1926 is an amazing image of the sport.
The fact of the image being a very early and not many African American organized teams let alone colleges, makes this a rare and historical artifact.

Year: 1926
Hampton College was founded in 1868 by black and white leaders of the American Missionary Association after the American Civil War to provide education to freedmen.

The Hampton Basketball team in 1926 then two years later the team is now Morgan College basketball team of 1928 and wining against the New York Renaissance African American team.

The Hampton Team has 13 people in the photograph and all the players have their names and also their nicknames.
This original photo is a sepia Albumen image and the names are written, by the same hand in a iron based ink.
The second image is appears to be a enlarged image of the 1928 Morgan College photo.

Size: Albumen image of 1926 Hampton Team 9 1/8 x 7 1/2 inches
1928 Photo of the Morgan Team 11 1/8 x 8 3/4 inches
Condition: the Original photo is mounted to board and is in good condition with minor chipping to the edge of the board but the photograph is in very good condition. Please see images provided for a visual description.

If you have any questions or if you need additional images, please feel free to contact me.

Note:
shipping cost is for US only, if you are an over seas buyers please email me your shipping address to get a shipping quote.




Detail photos Click to enlarge