⬅ Return to collection
Mid-century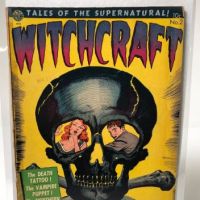 Very Rare Precode Horror Comic Witchcraft no 2 May 1952 published by Avon Publications Cover by Sid Check
**Sames Estate as the other Pre Code Comics listed**

Title: Witchcraft No 2
Date: May 1952
Pub by Avon Publishing
Cover by Sid Check

Condition: Cover is has bold and crisp colors. Tape on the spine edge and a faint store stamp with date. Very light edge bumps and lower right has small chip and top right corner has small chip, very light and very faint. Small edge tear on the right, slightly below center. Back has tape on spine edge but rest of back cover is very clean. Cover is held on by tape. Binding is tight with amazing color and very clean and crisp pages throughout.
Please see the images for details.
If you need more image please tell me what areas you need photographed.
"Art by Sid Check, Norman Nodel, Vince Alascia, Ed Goldfarb, and Joe Kubert. Cover by Gene Fawcette. Tales of pre-Code horror, curses, and spells. A cursed tattoo gives its owner hypnotic powers, but slowly drives them to madness and death, then goes off to find a new victim. A scientist creates a formula that brings inanimate objects to life, then finds himself trapped in his own living and malevolent house. In the frozen north, explorers ill-advisedly investigate a lost Viking ship that is not as dead as it seems. Also featuring a classic horror cover, probably by Gene Fawcette, and a campy contents page illustrated by Sid Check on the inside front cover. Witchcraft; The Death Tattoo!; The Vampire Puppet; The Dead Do Tell! A True Ghost Story; House to Let; The Northern Horror!"
If you have any questions or need additional information, please feel free to contact me.

Noted:
Overseas buyers please email me for shipping quote, please provide me with a shipping address and postal code.
Detail photos Click to enlarge