⬅ Return to collection
Mid-century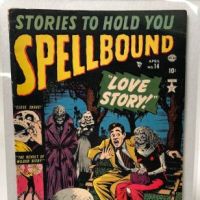 Very Scarce Precode Horror Comic Spellbound No. 14 April 1953 Published by Atlas Cover by Bill Everett
**Sames Estate as the other Pre Code Comics listed**

Title: Spellbound No. 14
Date: April 1953
Pub by Atlas
Cover by Bill Everett

Condition: Cover is amazing, bold and vibrant colors, a tiny rub on the top edge of spine. Only a tiny pull at staples but cover is almost perfect. Back is very clean and has old pencil number of 11 at top. Binding is tight with no issues, tight and very clean and crisp pages with excellent colors. A very pristine comic.
Please see the images for details.
If you need more image please tell me what areas you need photographed.
"Cover art by Bill Everett. Love Story, script by Stan Lee, art by Joe Maneely; The wife of an African guide plots with a doctor to murder her husband. The Whirlpool Of Gairloch text story. The Saddest Story Ever Told!, script by Stan Lee, art by Ed Winiarski. The Revolt of Wilbur Bixby! The Heat's On!, script by Stan Lee, art by Russ Heath. Close Shave!, art by Fred Kida."
If you have any questions or need additional information, please feel free to contact me.

Noted:
Overseas buyers please email me for shipping quote, please provide me with a shipping address and postal code.
Detail photos Click to enlarge