⬅ Return to collection
Daguerreotype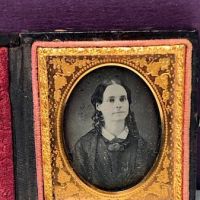 Very Unique Boston Daguerreotype in Case By Tyler and Co. Boston Woman Portrait in Ornate Grape Design Mat Ninth Plate
Daguerreotype by Tyler & Co. Washington and Winter in Boston Mass. of a young woman with a very ornate grape designed mat. Very unique in this early daguerreotype.
Case Image Circa 1854
Different than my previous post of Tyler & Co., this one has the Daguerreotypist logo on the felt and not on a card. The Washington cross street on the red felt is a very strong indication that this is the same photographer. Almost all the Tyler & co have the photographer using a paper label , not an embossed red velvet.
Tyler & Co. was reported to be at this address and was Active 1854-1855. The location was taken over by Abner Taber in 1855 and used the small label with his name instead of Tyler. There are other locations and states for Tyler & Co. but not known if it is the same photographer.

Size: Ninth Plate - 2 x 2.5 inches
Condition: The image is amazing with slight marks on the image, to the left of the woman's head. Very slight and minor tarnish on the right edge agains the brass mat. The mat is in remarkable condition with the unique grape pattern in wonderful condition. The outside of the case has slight wear but in very good condition. Please see the images for more details.
If you have any questions or need more images, please feel free to email me.
NOTE:
The price listed is for US. If you are an overseas buyer please email me your shipping address before purchase to get a shipping quote.
Detail photos Click to enlarge