⬅ Return to collection
Mid-century
This item has been sold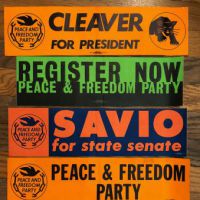 Very Rare Original 1968 Black Panther Peace and Freedom Party Mario Savio Un-Used Stickers 5 Total
A rare find of historical Counter Culture and Revolutionary Movement.
A total of 5 stickers in the collection.
All printed in Berkley Califoria, Berkley Graphic Arts Off Set Printing union logo on all the stickers.
One sticker, the Peace and Freedom Party Sticker has the hand stamp of the "Lancaster County Peace & Freedom Movement Organizing Committee Po. Box 592 Lancaster, PA. 17604"

Condition: Un-used with only minor soiling on the stickers.
Size: Peace and Freedom Party Sticker 4" x 15"
Register Now 4" x 13 1/2"
Mario Savio 4" x 14 1/2"
Newton ad Seale 4" x 14 1/2"
Cleaver for President 4" x 15"

1968 Black Panther gained Momentum in the political arena who with the help of The Peace and Freedom Party was able to nominate Eldridge Cleaver for President... "at the first national convention(Peace and Freedom Party) to nominate candidates for President and Vice President was held in Ann Arbor, Michigan on August 17-August 18, 1968. Eldridge Cleaver was nominated for President over Richard C. "Dick" Gregory by a margin of 161.5 to 54. Cleaver, a convicted felon and Black Panther spokesman, was technically not eligible to run, since he would not yet be 35 by the time of the inauguration in January 1969."

Mario Savio activist and Free Speech Organizer ran for Senate in 1968 on the Peach and Freedom Party, a left wing political party who supported Black Liberation, farmworker organizing, Women's Liberation, and the Gay rights movements.

Peace and Freedom Party..."(PFP) is a single state left-wing[1] political party, with affiliates and former members in more than a dozen American states, including California, Florida, Colorado, Indiana, Utah and Hawaii, but none now have ballot status besides California. Peace and Freedom's first candidates appeared on the ballot in 1966 in New York; but the Peace and Freedom Party of California which was organized in early 1967, gathering over 103,000 registrants which qualified its ballot status in January 1968. (California Secretary of State Report of Registration January 1968)."

Also included in the collection is a VERY RARE Huey Newton and Bobby Seale sticker, also on the Peace and Freedom ticket, to nominate them for running for Congress and State Assembly. This political move was after the two political leader of the Black Panther Movement were repeatedly denied civil liberties. This move from direct action and sometime armed confritation with the California, Berkley Police Department.

A rare and unique collection!!
Please feel free to email with questions or if you need additional images.

Shipping will be with insurance of the purchased price.



Detail photos Click to enlarge